Welcome!
Welcome to a wiki for Matilda the Musical. Here, you will find details of casting and dates. Matilda the Musical is a musical written by Dennis Kelly with music and lyrics by Tim Minchin. The show is currently running on the West End and is on tour throughout the United Kingdom and Ireland.. It is based on the much loved children's novel Matilda by Roald Dahl, and has won the most Olivier Awards in history.
News
Broadway production closed
We are sorry to say that the Broadway production closed on January 1, 2017 with Willow McCarthy in the title and played 1,555 performances and 37 previews. We are happy to say though, that Matilda the Musical (as of May 2018), is the 55th longest running Broadway production in history!
Australian/New Zealand Production Closed
Unfortunately, in November of 2017, the Australian Production of Matilda the Musical that went to Sydney, Melbourne, Brisbane, Perth, Adelaide and Auckland (New Zealand) has closed. There were three casts of Matildas:
Sydney-
Melbourne-
Brisbane/Perth/Adelaide/Auckland-
Special Well Done to Izellah, Annabella, Venice and Eva who travelled for one whole year to four different locations around Oceania.
New West End Cast Matildas
Savannah Read and Lilly Mae Evans will be staying on as Matilda Wormwood, with Kitty Peterkin and Emma Moore being replaced new Matildas Olivia Wells and Sara Munday.
A MATILDA TOUR HAS FINALLY COME TO THE UK AND IRELAND!
The Production is currently running at the Sunderland Empire Building, with new Matildas Annalise Bradbury, Lara Cohen, Poppy Jones and Nicola Turner.
Current Matildas around the world
Here is a list of all of the current Matildas-
Lilly-Mae Evans (West End)
Sara Munday (West End)
Savannah Read (West End)
Olivia Wells (West End)
Annalise Bradbury (United Kingdom and Ireland Tour)
Lara Cohen (United Kingdom and Ireland Tour)
Poppy Jones (United Kingdom and Ireland Tour)
Nicola Turner (United Kingdom and Ireland Tour)
Upcoming Matildas-
Korean Matildas-
TO BE ANNOUNCED
Maggot Casting
Film
Georgia Pemberton was cast in the role of Fiona in the Tim Burton film Miss Peregrine's Home for Peculiar Children
Oona Laurence was cast in the film Pete's Dragon.
Lollie McKenzie has been cast as Amy in the short film Chatch
Television
Cara Jenkins will be playing Violet in CBBC comedy, The 4 O'clock Club which is due to air its fifth season on Thursday 25th Feburary.
Sebastian Croft will have a role in the new series of Game of Thrones
Kerry Ingram has been cast as Becky in new Netflix original Hat Hair.
Ava Merson-O'Brien will be reprise her role as, Harriet in the third season of Hetty Feather.
Brooklyn Shuck will be playing the role of Stella in new comedy pilot I, Shudder.
Rhianna Dorris appeared in the role of Penny Parker in an episode of CBBC comedy Secret Life of Boys.
Cleo Demetriou will be returning as Lily Hampton in the CBBC Teen comedy So Awkward.
Emma Howard has the recurring role of Becky Reynolds in Transparent.
Adam Scotland played the role of Lucas in the CBBC's Millie Inbetween.
Theatre casting
Did you know?
Josie Griffiths sings the song "Naughty" on the original cast CD.
Eleanor Worthington Cox has two older brothers called Ben and Josh.
Sophia Kiely has no social media accounts, and prefers privacy.
All together 70 actresses have played Matilda or will being playing Matilda.
Abbie Vena is the longest running Matilda in history, having played the character for more than 13 MONTHS!!! 
Georgia Pemberton's first show was on the 4th of September, with the purple team feat. Emily Robins, Thierry Zimmermann and Robbie Warke.
Kerry Ingram, Eleanor Worthington Cox, Sophia Gennusa, Gabby Gutierrez, Bella Thomas, Ingrid Torelli and Hannah Levinson all played Matilda on opening Night in their respective shows.
Adrianna Bertola and Josie Griffiths who played Matilda in the Original Stratford Production were going to be part of the West End Matilda cast, but they grew one inch to tall to transfer,
Here the most recent Matilda the Musical Videos will be posted!
Featured Cast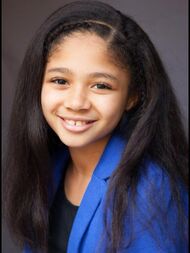 Ella Rhiann Yard 
is a British child actress who is currently playing the role of 
Lavender
Explore