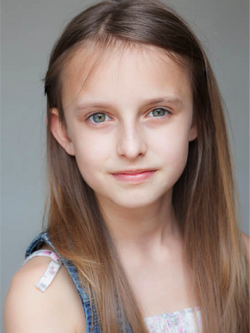 Lara Wollington
(born March 30, 2003)  is a British child actress who played Matilda.
Credits 
West End
Shrek the Musical as Standby (Young Shrek and Dwarf)
Matilda the Musical as Matilda
Gypsy as Baby Louise
The Secret Diary of Adrian and Mole as Pandora
Other
The BFG as Sophie (Birmingham Repertory Theatre)
Television 
Florrie's Dragon's as Florrie 
Big Brother's Little Mouth as Child housemate 
64 Zoo Lane as Lucy 
Wanda and the Alien as Wanda 
Film 
Young, High and Dead as Sammy Taylor 
Trivia
Lara had the second longest run out of all of the Matilda girls so far (after Abbie Vena), having started August 25, 2012 and finishing on September 29, 2013.
Lara has a younger brother named Zac. 
Lara is a member of the Spirit Young Performers Company and is a member of their Elite Musical Theatre team.  
Lara is from Enfield, London.  
During her time in Matilda: Lara performed "Naughty" for Friday Night is Music Night on BBC Radio 2; performed "Quiet" after the Olivier Award nominations; appeared as a judge on Junior Masterchef and performed a four girl Naughty at the Olivier Awards at Piazza Square.