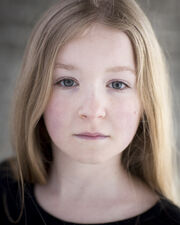 Hayley India Canham (born May 3, 2002) is a British child actress from Windsor who played Matilda from April 2012-March 2013.
She attends School of Theatre Arts and Pat Steel School of Dance.
Credits 
West End
Other
The Ragged Child as Annie

The Hard Problem as Cathy (The National Theatre)
Television
Regional
It's a Wonderful Life as Zuzu 
Beauty and the Beast as Girl 
Hairspray in the Ensemble 
Trivia
Hayley's last show was March 3, 2013.
During her run as Matilda, Hayley performed Quiet at a British cultural event, the video of which is posted below.
Hayley is represented by Olivia Bell Management
Media