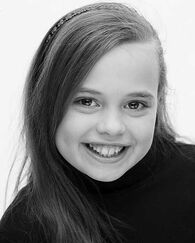 Amy Iolanda Patricia Charlton (born January 12, 1999) is a British child actress who played Hortensia in Matilda, West End.
Credits
West End
Annie as Molly (2006)
Billy Elliot as Alison Summers (2008)
The Wizard of Oz as Munchkin (2011-2012)
Matilda as Hortensia (2012-2013)
Trivia
Amy had her final performance on August 31, 2013.
Amy currently attends the BRIT School and is in year 12.
Amy studies Musical Theatre.
Amy's best friend is Jake Samson and he attends the BRIT School with her.
Amy's favourite food is pasta.
Amy has two dogs called Tanner and Mimi.