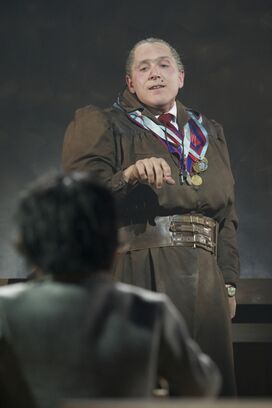 Miss Agatha Trunchbull is the main antagonist in Matilda the Musical. She's the principle of Crunchem Hall Academy and an Olympic hammer-throwing champion.
She is portrayed as a brawny, competitive, abusive bully with a devotion to discipline and dark ties to Miss Honey's past. Because of her maliciousness, she's feared by students and adults. Matilda is the first to stand up to her.
Miss Trunchbull's motto is "Bambinatum est magitum", meaning "Children are maggots." One of her cruel means of punishment is The Chokey, a tiny cupboard filled with "spikes, nails, and wood."
She is traditionally played by a man dressed in a 'fat suit' for comedic effect as well as due to the physical demands of the role. Bertie Carvel, who originated the role in the original Stratford production of Matilda as well as going on to star in both the West End and Broadway casts, won the Best Actor in a Musical Olivier Award in 2012 for his performance and recieved a nomination for the 2013 Tony Award for Best Performance by a Leading Actor in a Musical.
David Shannon currently plays the role on the West End.
Actors
Stratford upon Avon
West End
Bertie Carvel
David Leonard
Charles Brunton (understudy)
Mark Goldthorp (understudy)
Craige Els
David Shannon (current)
Broadway
Bertie Carvel
Colin Israel (understudy)
John Sanders (understudy)
Ben Thompson (understudy)
Craig Bierko
Chris Hoch
Sean Montgomery (understudy)
Chris Sieber (current)
Geoff Packard (understudy)
Michael Minarik (understudy)
Acrobat Tour
Bryce Ryness
Justin Packard (understudy)
Ian Michael Stuart (understudy)
David Abeles (current)
Sydney
James Millar (current)
Glenn Hill (understudy)
Stephen Anderson (understudy)
Songs
Miss Trunchbull performs the following numbers:
She also appears in "Bruce" and "Quiet." On the Original Cast Recording, a secret track includes her vicious rant during "Quiet."
Quotes
"Miss Honey, please understand that when I say 'quiet, you maggots,' you are entirely included in that statement."
"We cannot simply place her in the top form with the eleven-year-olds. What kind of society would that be? What about rules, Honey? Rules."
"He should have thought of that before he made a pact with Satan and decided to steal my cake!"
"To teach the child, we must first break the child."
"In this world there are two types of human being: the winners and the losers. I am a winner. I play by the rules and I win. And if I play by the rules and do not win, then something is wrong. Something is not working. And if something is wrong, then you have to put it right even if it screams."
"There is an age for reading and an age for being a filthy little toad!"