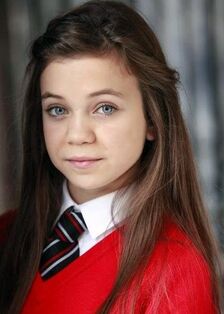 Adrianna Jean Bertola (born February 9, 1999)  is a British teen actress, who is best known for playing Matilda in the Stratford production of Matilda The Musical.
Credits 
Professional theatre 
The Sound of Music as Gretl Von Trapp 
Les Misérables as Little Cosette 
Matilda, a Musical as Matilda
The Sound of Music as Brigitta von Trapp 
Charlie and the Chocolate Factory the Musical as Violet Beauregarde
Film 
Television 
Casualty as Sharice Brooks 
Magic Grandad as Eliza 
Mister Eleven as Young Saz 
Girl Blue Running Shoe as Girl
Doctors as Gemma Branscombe 
The Little House as Young Ruth 
Silent Witness as 8 year old Girl
Call The Midwife as Cathy Tanner
Hank Zipser as Anya
Commercials 
Pfizers Stop Smoking as Hero girl 
Batchelors Soup as Young Girl 
BT Calls and Lines as Young Girl 
Innocence in Danger as Hero girl
Danone Yoghurt as Young Girl 
Hyundai as Bugsy Malone girl 
Compare the Market.com as Meerkat girl 
Trivia
Adrianna played Matilda on the closing night of the Stratford production.
She sings 'Quiet' on the original London cast recording.
During her time in Matilda, Adrianna was on the Red Team. 
Her nickname is Adi.  
She made her West End debut aged 7.  
Adrianna was the Matilda they used in workshops.  
Adrianna attended the Sylvia Young Theatre School until Year 11. For sixth form, she is attending Arts Educational School.
Adrianna is the actress of mini Jessie J.
Media